Wedding DJ FAQs
We're answering all of your burning questions about hiring Bow Ty Audio as your wedding DJ
by Ty Rempe | Bow Ty Audio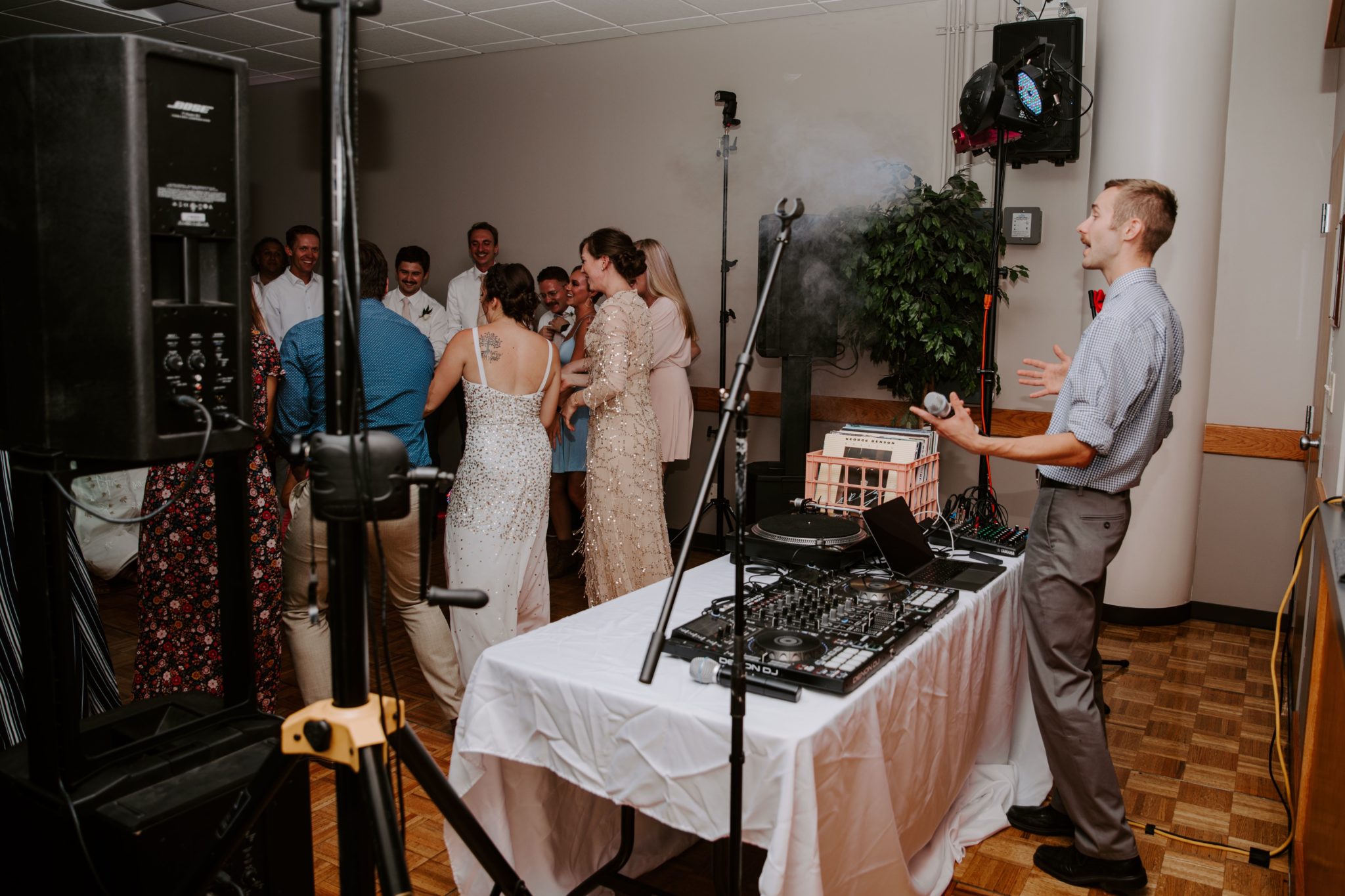 We want you to feel extremely comfortable when hiring the entertainment for your wedding. That is why we've put together the answers to top questions we've received over the years.
Services and Style
What types of events are your specialty?
Bow Ty Audio DJs all types of events – parties, corporate events, school dances, weddings, and more.  However, if we had to choose a specialty, we would go with weddings!  With over eight years of experience DJing weddings across the midwest, we are confident in our ability to wow our clients and entertain guests of all ages throughout the entire night.
How is Bow Ty Audio different than other DJ companies?
We pride ourselves in our professionalism and work hard to provide you with the entertainment you desire.  We meet a couple of times before the event to make sure we truly understand your vision for the evening, how you would like everything to flow, and what type of music you would like to have played.  While we are hired to entertain, we understand that the true star of every wedding is the newly-wedded couple!
How do you mix the music?
Bow Ty Audio uses an electronic turn table or mixing deck to mix all of the music.  By reading the crowd carefully, we are able to choose the next song that fits the mood in that moment.  We blend our music so the transition from one song to the next is seamless.  This type of transition creates a curated and intimate feel.  Because of the way we mix our music, no two events' playlists are ever the same!
Do you have a record collection?
Yes!  Unlike many other DJ companies, we typically bring our vinyl collection to each event.  We love the sound of vinyl and typically play these records during the cocktail hour.  However, if vinyl isn't your thing we will leave them behind!
Do you offer additional DJ services, such as lighting?
Yes!  All of our DJ packages include additional services beyond music including MC services, DMX lighting, AV Projector Rental, and Edison String Lights.  You can see all of our packages and add-ons here.
Music Selection
Do you allow your clients to choose their own music?
Of course!  When we first meet, we will discuss your music preferences.  Our clients always have a choice on what is played during their event – whether that is supplying a playlist to be played during a certain time or putting together a full list of songs for the whole event.
How involved are you in helping us plan our music?
We will be as involved as you would like.  We are happy to share our opinion on songs for certain times of the event or we are happy to take control and mix the playlists we think are right.  We will be with you every step of the way and available to you at anytime while you're planning your wedding.  If you have questions or concerns you are always welcome to email, call, or text your DJ!
What kind of music do you have in your collection?
We have a very large collection of music that includes all genres.  Over the past ten years we have compiled a database of songs and playlists that we can use to build a custom playlist for your event.  We keep track of the music that is popular now and which songs have been the most requested in order to help guide our music selection.  We are very confident we can play any song your party requests! 
Working with Bow Ty Audio
How will I know who my DJ will be?
Our packages are built around specific DJs so you will know who your DJ is as soon as you sign the contract.
Do you offer different "tiers" or skill level of DJs?
While all of the Bow Ty Audio DJs are equally skilled, many of them have different levels of experience.  We have two different packages available – the Premier Wedding DJ and Ultimate Wedding DJ.  When booking our Premier package our owner, Ty Rempe, will be your DJ.  If booking the Ultimate package, an associate will be hand-picked by Ty according to your preferences and availability.   You can learn more about all of our DJs here.
How many months before the wedding should we book a wedding DJ?
We encourage you to book a DJ as soon as possible after your engagement.  We typically receive bookings six months to one year in advance.
How many times will we meet before our wedding?
We will typically meet two to three times before your big day.  However, we are open to meeting as many times as you need!  In the past, these meetings have been in person; however, we've now incorporated video calls into our process!  We love to meet our clients before or directly after booking the event.  This helps us understand exactly what you're looking for and to ensure we'll make a good fit.  We then plan to meet again two to three weeks before the wedding to ensure we are all on the same page.
Cost of Bow Ty Audio
How much do you charge?
All of our prices can be found here!  If you have any questions about our packages or pricing, please don't hesitate to reach out!
What is included in the price for my wedding or event?
Depending on the package, you will typically receive six hours of music, DMX lighting, background music during dinner, MC during the reception and dance, indoor/outdoor sound equipment, insurance coverage, our extensive record collection, and a curated playlist + requests.  You can find more information about our package options here.
Do you offer any discounts?
We are currently running a promotion for any event booked for this Fall or Winter.  Contact us to receive $250 off the Premier Wedding package!
What areas do you serve?
We currently offer our DJ services in Nebraska, South Dakota and Kansas.  However, if you would like to book Bow Ty Audio for an event outside of those areas please reach out!  We are always open to a good old fashion road trip!
Do you have any requirements when it comes to my event space?
No!  We are extremely flexible and can make just about any space work – inside or outside!
Are you insured?
Yes, Bow Ty Audio is fully insured.  Some venues require proof of insurance before we are allowed to setup.  If that is the case, please let us know and we will be happy to provide it!
Day Of Details
How do you dress for the event?
All of the DJs at Bow Ty Audio dress professionally for each event.  This includes dress pants, a dress shirt, and a bow tie.  We typically choose dark colors such as black or navy blue.
When will you arrive to set up for an event?
We like to show up early to all our events.  Typically, this means 2.5 to 3 hours before guests begin to arrive.  We like to have plenty of time to set up, meet the rest of the event staff, and make sure everything is working properly.
What kind of equipment do you use?
Bow Ty Audio uses only the best professional audio equipment.  Our set up is equipped with Bose speakers and professional DMX addressable lighting.  We also build redundancies into our setup so we are prepared if something breaks or malfunctions.  This includes two microphones, two speaker systems, and two of every cable we need. 
Am I able to add more time if we don't want the party to end just yet?
Yes!  If the party is just too fun and you would like to add on an hour or two just let us know!  We charge $100 for each additional hour.